Did you know that taking vitamin D without adequate levels of vitamins A and K could actually damage your health?
For years now, we've been hearing about the importance of vitamin D, but what no one seems to be talking about is the fact that your body requires a delicate balance of vitamin D with other fat-soluble vitamins.
While it's true that there are alarming nationwide deficiencies in vitamin D, taking large doses of this nutrient alone could actually do more harm than good [1][2].
Continue reading as we unveil the hidden connections between Vitamin D, Vitamin A, and Vitamin K. Delve into their synergistic balancing act and discover why harnessing the power of all three could be the key to unlocking your true vitality and unleashing the perfect balance of health within you.
The Relationship Between Vitamins A, D, and K
Fat-soluble vitamins are a group of nutrients that work together and are particularly vital for healthy bones. When one vitamin is low, it can throw the others off balance. Similarly, when you have an excess of one, it can also create harmful effects like increasing the risk of fractures.
Let's take a closer look at the relationship between vitamin D and two other fat-soluble vitamins; vitamin A and vitamin K.
Vitamin D and Vitamin A
Much like vitamin D, it appears that in the U.S., around 45% of the population is consuming inadequate levels of vitamin A [3]. This means that two nutrients vital for bone health are missing from most people's nutritional intake.
Now let's take a look at how these two fat-soluble vitamins work together.
Vitamin A and vitamin D bind to and activate specific receptors and these receptors can team up, joining together to form a two-part complex called a heterodimer. Together, this vitamin A and vitamin D heterodimer triggers the activation of thousands of genes whose responses promote healthy physiological function. What this means is that both vitamin A and vitamin D need to be present to support optimal health. The more vitamin D you take, the more vitamin A you'll need.
This is particularly important when it comes to bone health. Studies show that adequate vitamin A intake results in higher bone mineral density – but only if you also have adequate vitamin D [4][5].
What exactly is the bone health connection?
Vitamin D is responsible for delivering calcium to your bones and promotes the production of osteocalcin – a bone-building protein. Research suggests that the combination of vitamin D and vitamin A boosts osteocalcin production by allowing the vitamin D receptor to bind more strongly, increasing osteocalcin gene expression [6]. By optimizing the activity of vitamin D, Vitamin A improves calcium uptake in your bones and therefore assists in improving bone mineral density [7].
Now, you may have heard that taking vitamin A is actually bad for bone health – so what gives?
Studies show that very high doses of vitamin A may, in fact, increase your risk for fracture. However, this is only true in the presence of low vitamin D. In other words, vitamin A is only a threat to bone health if your vitamin D levels are low [8][9].
Ultimately, this further underlines the need for maintaining a healthy balance of these two vitamins, and remembering to add vitamin A when you start supplementing with vitamin D.
But why are we all lacking vitamin A in the first place?
The best sources of vitamin A come from foods like liver, fish, eggs, and dairy. These foods contain preformed vitamin A (vitamin A in its natural state), as opposed to carotenoids, which need to be converted to vitamin A. While carotenoids are abundant in many people's diets in the form of foods like leafy greens, tomatoes, red bell peppers, and carrots, they don't give you as much bang for your buck in the vitamin A department compared to preformed vitamin A in dairy, liver, eggs, and fish.
The problem is that the bioavailability of carotenoids can vary significantly depending on the food matrix itself and your personal ability to digest and absorb them. In fact, research shows that the absorption of beta-carotene from plant sources ranges from 5% to 65% in humans [10].
On top of this, the small fraction of beta-carotene that ends up being absorbed then needs to be converted into usable vitamin A, with the help of an enzyme. For many of us, this conversion is highly inefficient due to genetic variations called single nucleotide polymorphisms (SNPs). Three specific SNPs have been found to reduce activity of the conversion enzyme by a whopping 59%, 51%, and 48%. And research shows that the frequency of these SNPs varies from 43-84%, 52-100%, and 19-67% across 11 different ethnic population groups (including those of Northern and Western European ancestry) [11]!
Therefore, your vitamin A needs are likely higher than you may think for two reasons:
Dietary sources of vitamin A won't necessarily convert well, unless you're consuming plenty of preformed vitamin A.
If you're supplementing with vitamin D, you'll need to increase vitamin A accordingly to ensure a proper balance of these two nutrients.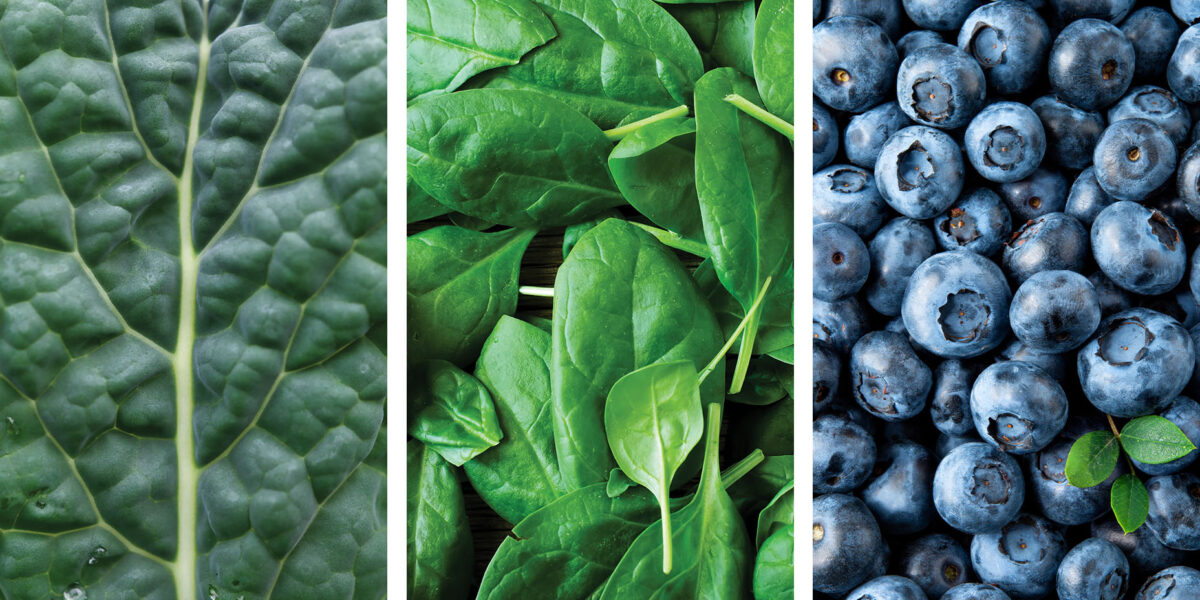 Vitamin D and Vitamin K
Vitamin D and vitamin K are another set of nutrients that have a synergistic relationship, with both vitamins profoundly impacting bone health.
While vitamin D helps with calcium absorption from your intestines, vitamin K assists in directing calcium into the tissues where it's most needed. Specifically, vitamin K2 plays a crucial role in activating the enzymes that direct calcium into your bones (and keep calcium from depositing in your arteries).
Both of these vitamins also play a role in the function of osteocalcin (the bone-growth protein mentioned previously). While the production of osteocalcin requires vitamin D, in order for this protein to carry out its function of pulling calcium into your bones, it needs to be activated by vitamin K.
Furthermore, when vitamin K levels are low, the calcium that's meant for your bones is free to be deposited into your soft tissue – which is the opposite of what you want [12]. 
Therefore, you need a healthy balance of both vitamin K and vitamin D for optimal osteocalcin production and utilization.
So, what happens when you don't have enough of one of these vitamins? Studies suggest that taking high doses of vitamin D could promote the production of large amounts of vitamin K-dependent proteins, such as osteocalcin, which remain inactive due to inadequate vitamin K. This leaves the vitamin K-dependent proteins unable to carry out their proper functions, which include bone mineralization and the inhibition of soft tissue calcification [13]. 
Again, the moral of the story here is that as you increase your vitamin D supplementation, you need to be sure that you're getting enough vitamin K to balance out all of vitamin D's activities.
Takeaway
It's fair to say that most people could benefit from taking a vitamin D supplement due to this nutrient's widespread deficiency. However, taking vitamin D without considering your needs for vitamin A and vitamin K could actually be detrimental to your health.
Too much vitamin A without enough vitamin D, for example, could promote bone loss and put your bones at risk for fracture. Furthermore, too much vitamin D, without enough vitamin K, could increase your risk for calcium ending up where you don't want it, forming kidney stones or calcifying your arteries, instead of getting into your bones.
Other systems in your body may also be impacted by an imbalance in these nutrients, like your cardiovascular system, which requires adequate vitamin K to shuttle calcium away from your soft tissues, preventing arterial calcification.
At the end of the day, while we may still be on a continuous journey to learn about the complexities of the human body, one thing we know for certain is that balance is always key.
To learn more about bone health and healthy aging, sign up for the AlgaeCal Newsletter and stay in the loop with the latest research and news.
FAQs
Do vitamins A and D work together?

Vitamin A enhances the activity of vitamin D. Furthermore, the potentially harmful effects of vitamin A on bone health are only present when vitamin D is deficient due to the synergistic quality of the relationship between these two nutrients.
Should vitamin D and K be taken together?

Vitamin D and vitamin K should always be taken together as these two nutrients work as a team to promote both bone and cardiovascular health.
What are vitamins A, D, and K good for?

Vitamins A, D, and K are all fat-soluble vitamins that work together to promote bone health, calcium homeostasis, and cardiovascular health.
Is it safe to take fat-soluble vitamins daily?

Fat-soluble vitamins are okay to take daily as long as you're getting the appropriate amount of each in a balanced ratio and are not over-supplementing.
What are fat-soluble vitamins good for?

Fat-soluble vitamins have a wide range of activities in the human body, including roles in bone health, heart health, immunity, growth and development, vision, reproduction, and more.
References
Cui, A., Zhang, T., Xiao, P., Fan, Z., Wang, H., & Zhuang, Y. (2023). Global and regional prevalence of vitamin D deficiency in population-based studies from 2000 to 2022: A pooled analysis of 7.9 million participants. Frontiers in Nutrition, 10.
Reider, C. A., Chung, R. Y., Devarshi, P. P., Grant, R. W., & Hazels Mitmesser, S. (2020). Inadequacy of immune health nutrients: intakes in US adults, the 2005–2016 NHANES. Nutrients, 12(6), 1735.
Joo, N. S., Yang, S. W., Song, B. C., & Yeum, K. J. (2015). Vitamin A intake, serum vitamin D and bone mineral density: Analysis of the Korea National Health and Nutrition Examination Survey (KNHANES, 2008–2011). Nutrients, 7(3), 1716-1727.
Chen, G. D., Zhu, Y. Y., Cao, Y., Liu, J., Shi, W. Q., Liu, Z. M., & Chen, Y. M. (2015). Association of dietary consumption and serum levels of vitamin A and β-carotene with bone mineral density in Chinese adults. Bone, 79, 110-115.
Schräder, M., Bendik, I., Becker-Andre, M., & Carlberg, C. (1993). Interaction between retinoic acid and vitamin D signaling pathways. Journal of Biological Chemistry, 268(24), 17830-17836.
Sirajudeen, S., Shah, I., & Al Menhali, A. (2019). A narrative role of vitamin D and its receptor: with current evidence on the gastric tissues. International journal of molecular sciences, 20(15), 3832.
Yee, M. M. F., Chin, K. Y., Ima-Nirwana, S., & Wong, S. K. (2021). Vitamin A and bone health: a review on current evidence. Molecules, 26(6), 1757.
Caire-Juvera, G., Ritenbaugh, C., Wactawski-Wende, J., Snetselaar, L. G., & Chen, Z. (2009). Vitamin A and retinol intakes and the risk of fractures among participants of the Women's Health Initiative Observational Study. The American journal of clinical nutrition, 89(1), 323-330.
Haskell, M. J. (2012). The challenge to reach nutritional adequacy for vitamin A: β-carotene bioavailability and conversion—evidence in humans. The American journal of clinical nutrition, 96(5), 1193S-1203S.
Lietz, G., Oxley, A., Leung, W., & Hesketh, J. (2012). Single nucleotide polymorphisms upstream from the β-carotene 15, 15′-monoxygenase gene influence provitamin A conversion efficiency in female volunteers. The Journal of nutrition, 142(1), 161S-165S.
Guney, G., Sener-Simsek, B., Tokmak, A., Yucel, A., Buyukkagnici, U., Yilmaz, N., … & Ozgu-Erdinc, A. S. (2019). Assessment of the relationship between serum vitamin D and osteocalcin levels with metabolic syndrome in non-osteoporotic postmenopausal women. Geburtshilfe und Frauenheilkunde, 79(03), 293-299.
Van Ballegooijen, A. J., Pilz, S., Tomaschitz, A., Grübler, M. R., & Verheyen, N. (2017). The synergistic interplay between vitamins D and K for bone and cardiovascular health: a narrative review. International journal of endocrinology, 2017.