The term "superfood" gets thrown around a lot, but research shows that prunes may actually deserve this title, particularly when it comes to bone health.
In this article, we'll explore what the science has to say about prunes and bone health and highlight some prune-specific nutrients that may be responsible for their bone-boosting qualities.
How Does Osteoporosis Form?
Osteoporosis is a condition that causes your bones to become weak and brittle and, therefore, more prone to breaks and fractures.
Your bones are constantly going through a process of breaking down and reforming. When you're young, the process of bone formation outpaces the breakdown process. However, once you get into your 30s, you reach your peak bone mass density (BMD), and from there, the process of breakdown slowly starts to outpace the reformation process.
While it is natural for your bone density to slowly decline into adulthood, osteoporosis occurs when other factors accelerate this process to the point that BMD is low enough to produce fractures.
Hormonal changes, nutrient deficiencies, sedentary lifestyles, and several other factors can play a role in the progression of bone mineral loss [1].
With that being said, the integrity of your bones in childhood may also impact your susceptibility to osteoporosis later in life [2].
Can Prunes Reverse Bone Loss?
The good news about bone mineral density is that, in many cases, you can reverse the loss of bone and increase bone strength and integrity.
Several factors come into play regarding bone regrowth, including physical activity, lifestyle factors, and of course, nutrition.
Interestingly, prunes (which are simply dried plums) have become a fruit of interest for bone mineral density.
In one study, postmenopausal women with osteoporosis consumed 100 grams of either dried apples or prunes daily for one year. At the end of the one-year trial, the women who had consumed prunes saw significantly higher bone mineral density (BMD) than their dried apple counterparts [3].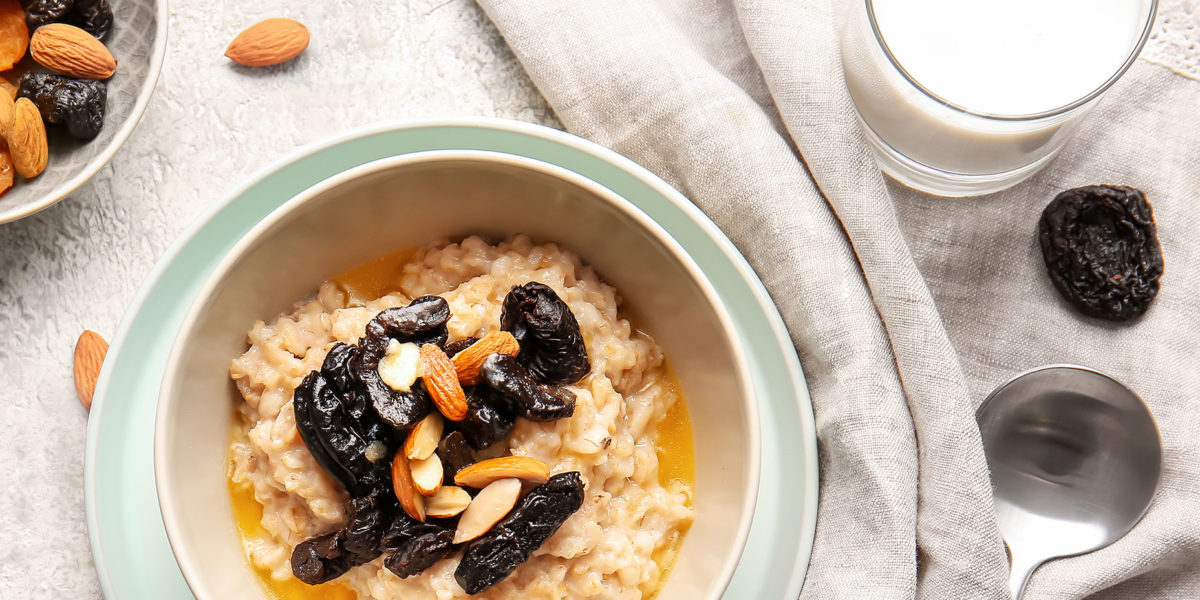 To follow up on their findings, a second trial was conducted where women with osteoporosis consumed only 50 grams of prunes daily instead of 100 (that's about 4 or 5 prunes as opposed to 9 or 10). Even with half the original amount of prunes, the investigators reported significant preservation of BMD. This is especially useful information as prunes have a tendency to cause loose bowels, and five prunes per day are generally tolerated much easier than 10.
According to the lead investigator, Dr. Bahram Arjmandi, the difference in BMD came (at least in part) from prunes' ability to suppress the rate of bone resorption (bone breakdown) [4].
Other research suggests that prunes' antioxidant and anti-inflammatory activity may help protect or prevent bone loss. Prunes are high in bioactive compounds like phenolics, along with a variety of vitamins and minerals. These nutrients can help combat oxidative stress and reduce inflammation – two pathologies involved in bone loss [5].
In a research review examining cell studies, the authors conclude that prunes may enhance bone formation and inhibit bone breakdown through their actions on signaling pathways that directly influence bone cells (osteoclasts and osteoblasts). Of course, this would be due to the aforementioned bioactive compounds in prunes [6].
Why Are Prunes Good for Bone Health?
While we may not have the exact mechanisms for prunes' beneficial impact on bone health, what we do know is that there are strong correlations and clinical evidence that consuming dried plums can enhance BMD [17].
Some of the potential ways in which prunes enhance bone density include:
Vitamin K and Calcium Balance
Prunes are naturally rich in the bone-building nutrient vitamin K. In fact; you can get about 21% of your daily needs in just six prunes.
Vitamin K is a crucial nutrient for calcium homeostasis. It's responsible for the activation of specific proteins which shuttle calcium into your bones and prevent calcium deposition in your soft tissues [7][8].
As a cofactor for the protein osteocalcin, vitamin K helps bone matrix formation by enhancing mineralization and the growth of hydroxyapatite crystals which make up around 60% of bone mass [9].
Inflammation and Oxidative Stress Support
As mentioned previously, inflammation and oxidative stress are two factors that can contribute to bone loss. This is especially true in postmenopausal women, where lower estrogen levels can trigger a rise in oxidative stress and inflammation.
Prunes are regarded as one of the most antioxidant-rich fruits out there, primarily due to their composition of phenolic compounds, which are a group of phytonutrients that demonstrate positive effects on bone metabolism.
Phenolic compounds present in prunes include 3-caffeoylquinic acid, 4-caffeoylquinic acid, 5-caffeoylquinic acid, 3-p-coumarolylquinic acid, caffeic acid, p-coumaric acid and quercetin-3-O-rutinoside (rutin) [18]. Specifically, research shows that rutin may inhibit bone loss, as observed in a rat model of osteoporosis [10].
Furthermore, the phenolic compounds in prunes may alter the composition of gut bacteria that make up your microbiome. This could be of great significance to bone health as studies suggest that your microbiota play a role in bone metabolism [19].
Furthermore, studies show that prunes may help to reduce inflammation by inhibiting the activity of pro-inflammatory compounds such as tumor necrosis factor (TNF) and interleukin (IL). These compounds are specifically associated with inflammatory pathways that become active in an estrogen-deficient environment [11][12].
Potassium for Calcium Preservation
Potassium is a mineral that plays an important role in balancing the process of bone resorption due to its impact on calcium. Specifically, potassium helps to neutralize your blood when it becomes too acidic. In acidic conditions, your bones start to lose vital minerals, especially calcium.
When potassium is present, it neutralizes the environment so that your bones can hold onto their minerals, making potassium a vital piece of the bone health puzzle [13][14].
Six prunes contain about 420 mg of potassium, which is about 16% of the recommended adequate daily intake [20].
Boron for Strong Bones
Plums are particularly rich in the trace element boron.
Boron is involved in both calcium and vitamin D metabolism and the growth of bone tissue. Furthermore, research suggests that this nutrient may also be involved in sex hormone activity [15].
Studies suggest that boron may play a role in preserving BMD by stimulating bone growth and metabolism, enhancing bone microarchitecture, and promoting bone strength [4].
Copper and Manganese
Two other minerals that can be found in prunes that play a role in bone health include copper and manganese.
Manganese acts as a cofactor for several enzymes involved in the formation of bones. As a cofactor, manganese catalyzes chemical reactions to assist in the generation of new bone [22].
Meanwhile, balanced copper levels assist with the maintenance of healthy bones by supporting bone mineral density [23].
One ounce of prunes includes 4% of the RDI of each of these nutrients.
A Range Of Other Nutrients
In addition to the bone-specific nutrients mentioned above, prunes are a rich source of a symphony of other vitamins and minerals that create the ideal environment for bone remodeling.
Just one ounce of plums includes: [21]
Vitamin A: 4% of the RDI
Vitamin K: 21% of the RDI
Vitamin B2: 3% of the RDI
Vitamin B3: 3% of the RDI
Vitamin B6: 3% of the RDI
Potassium: 6% of the RDI
Magnesium: 3% of the RDI
Phosphorus: 2% of the RDI
Takeaway
While there's no single food that can take care of all your bone health needs, prunes might be the closest thing we have to a bone-health superfood.
From what research currently shows, as few as five prunes a day may be enough to start making significant changes in your bone mineral density [16].
Keep in mind, however, that many of these studies also include calcium supplementation since prunes themselves are not great sources of calcium.
The takeaway? Adding prunes to your bone-health regimen is an excellent idea as long as you're also incorporating other nutrients such as calcium and vitamin D in your daily protocol.
To learn more about how to keep your bones happy and healthy, sign up for our newsletter for updates on the latest in bone health.
References
Kralick, Alexandra E., and Babette S. Zemel. "Evolutionary perspectives on the developing skeleton and implications for lifelong health." Frontiers in endocrinology 11 (2020): 99.
Arjmandi, Bahram H., et al. "Bone-protective effects of dried plum in postmenopausal women: Efficacy and possible mechanisms." Nutrients 9.5 (2017): 496.
Wallace, Taylor C. "Dried plums, prunes and bone health: a comprehensive review." Nutrients 9.4 (2017): 401.
Theuwissen, Elke, Egbert Smit, and Cees Vermeer. "The role of vitamin K in soft-tissue calcification." Advances in Nutrition 3.2 (2012): 166-173.
Hauschka, Peter V. "Osteocalcin: the vitamin K-dependent Ca2+-binding protein of bone matrix." Pathophysiology of Haemostasis and Thrombosis 16.3-4 (1986): 258-272.
Feng, Xu. "Chemical and biochemical basis of cell-bone matrix interaction in health and disease." Current chemical biology 3.2 (2009): 189-196.
Horcajada‐Molteni, Marie‐Noëlle, et al. "Rutin inhibits ovariectomy‐induced osteopenia in rats." Journal of Bone and Mineral Research 15.11 (2000): 2251-2258.
Damani, Janhavi, et al. "The Effect of 12-Month Prune (Dried Plum) Supplementation on Pro-inflammatory Cytokine Secretion in Postmenopausal Women." Current Developments in Nutrition 6.Supplement_1 (2022): 975-975.
Damani, Janhavi J., et al. "The role of prunes in modulating inflammatory pathways to improve bone health in postmenopausal women." Advances in Nutrition (2022).
Kong, S. H., et al. "Dietary potassium intake is beneficial to bone health in a low calcium intake population: The Korean National Health and Nutrition Examination Survey (KNHANES)(2008–2011)." Osteoporosis International 28.5 (2017): 1577-1585.
Zwart, Sara R., Alan R. Hargens, and Scott M. Smith. "The ratio of animal protein intake to potassium intake is a predictor of bone resorption in space flight analogues and in ambulatory subjects." The American journal of clinical nutrition 80.4 (2004): 1058-1065.
Rondanelli, Mariangela, et al. "Pivotal role of boron supplementation on bone health: A narrative review." Journal of Trace Elements in Medicine and Biology 62 (2020): 126577.
Hooshmand, S., et al. "The effect of two doses of dried plum on bone density and bone biomarkers in osteopenic postmenopausal women: a randomized, controlled trial." Osteoporosis International 27.7 (2016): 2271-2279.
Wallace, Taylor C. "Dried plums, prunes and bone health: a comprehensive review." Nutrients 9.4 (2017): 401.
Yan, Qihui, Liping Cai, and Weiying Guo. New Advances in Improving Bone Health Based on Specific Gut Microbiota." Frontiers in Cellular and Infection Microbiology (2022): 878.
Qu, Xinhua, et al. "Serum copper levels are associated with bone mineral density and total fracture." Journal of orthopaedic translation 14 (2018): 34-44.