The 12 Foods Most Likely to Carry Hidden Toxins
Love treating your body to the goodness of tasty fruits and fresh veggies every day? Well, brace yourself.
A whopping 75% of fresh produce sold in America's grocery stores is a breeding ground for harmful toxins! And some have even been declared potentially cancer-causing [1]. That's according to researchers at the Environmental Working Group (EWG) [2].
Every year they release their Shopper's Guide to Pesticides in Produce. And there are two critical lists you need to pay attention to: the Dirty Dozen™ and the Clean Fifteen™.
These lists analyze Department of Agriculture test data to identify which fruits and vegetables are most and least contaminated. In other words, EWG's Guide lets you know what produce is a better choice for safer eating.
This information is a game changer. Now you can shop with peace of mind, eat healthy, and save yourself from dangerous pesticides. So do your body a favor and dive into these lists — you'll be glad you did.
2023 Dirty DozenTM & Clean 15TM Lists
This year's 'dirtiest' foods were strawberries, spinach, and kale. And yuck, they were really dirty! In fact, kale (along with hot peppers, bell peppers, and collard and mustard greens) had the most pesticides detected of any crop — a whopping 103 and 101 pesticides respectively [3].
But don't let the Dirty DozenTM put you off your favorite fruits and veggies. Instead, buy the organic version and choose more foods from the Clean FifteenTM list.
The Clean FifteenTM shows which fruits and veggies had the lowest concentrations of pesticide residues. And it's good news for avocado lovers!
That's because avocados were the cleanest produce — less than 2 percent of samples showed any detectable pesticides. In fact, almost 65 percent of the fruits and vegetables on this year's Clean FifteenTM showed no detectable pesticide residue whatsoever.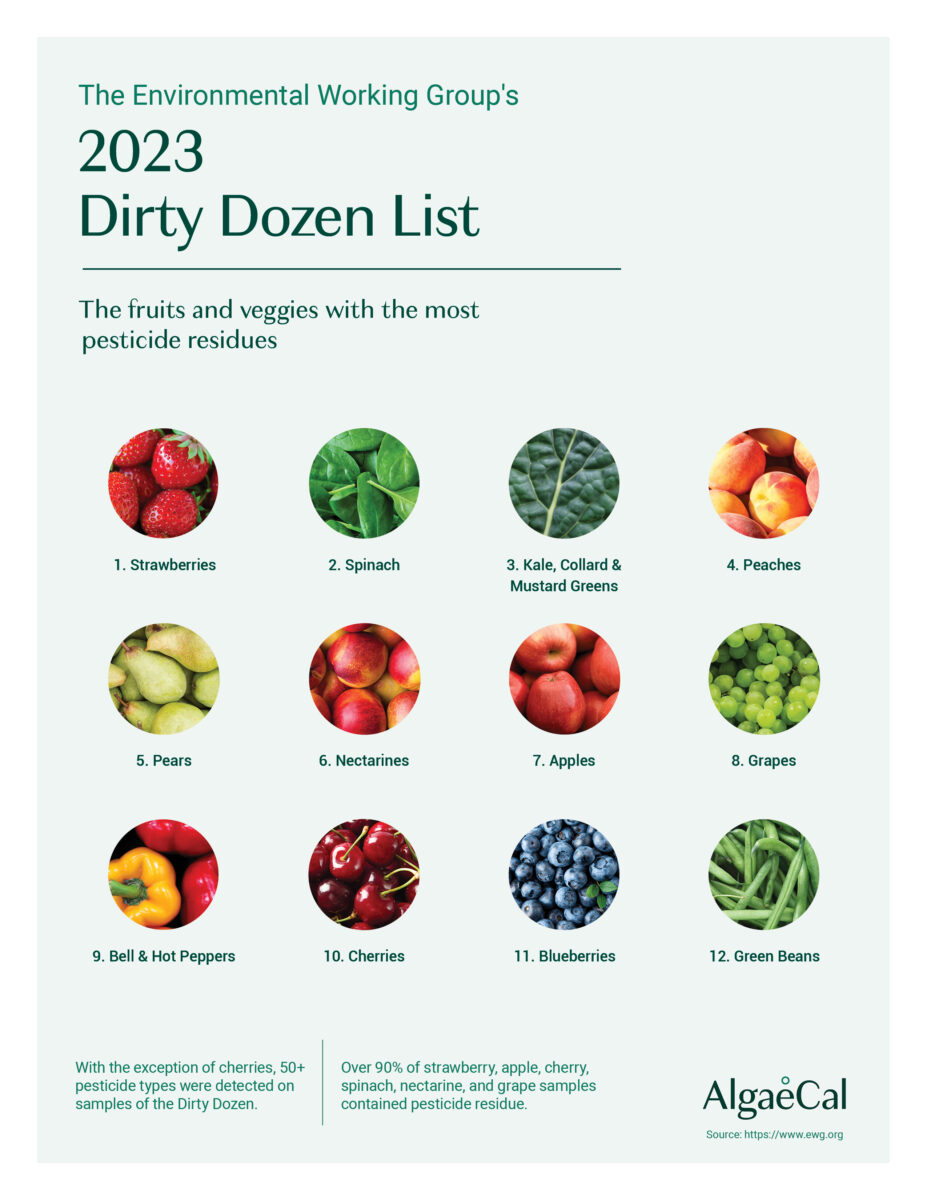 How are the Dirty DozenTM and Clean 15TM Ranked?
The United States Department of Agriculture (USDA) and the Food and Drug Administration (FDA) test more than 46,000 samples of produce sold in American grocery stores.
And the EWG analyzes the samples to determine which produce has the most pesticide residues (the Dirty DozenTM) and which has the least pesticide residues (the Clean FifteenTM).
To compare pesticide contamination on each food, the Environmental Working Group uses the following six measures.
The percentage of samples tested with detectable pesticides
The percentage of samples with two or more detectable pesticides
The average number of pesticides found on a single sample
The average amount of pesticides found, measured in parts per million
The maximum number of pesticides found on a single sample
Total number of pesticides found on the crop
But remember, the Clean FifteenTM only ranks fruits and vegetables based on pesticide residue. It doesn't account for bacteria. Which builds up very fast in busy grocery stores [4].
Before avocados, bananas, and cherries end up in your basket — they've been squeezed, sniffed, and handled by dozens, maybe even hundreds, of other shoppers! So you'll want to go ahead and give your produce a good wash when you get home from the store.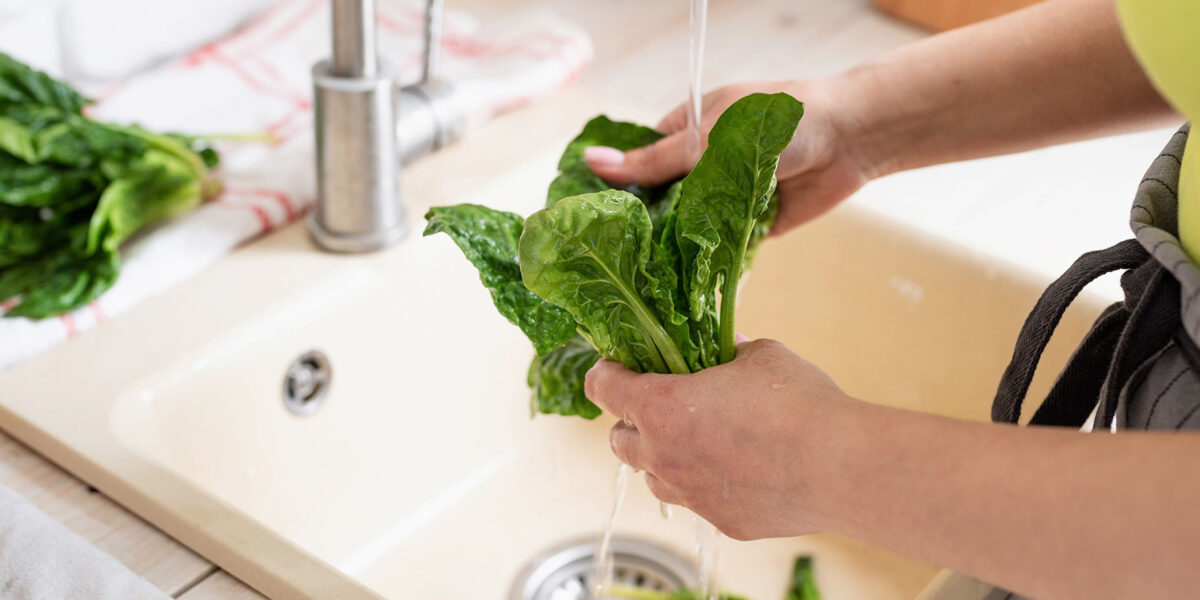 How to Wash Your Fruits and Veggies
The produce in the Dirty Dozen™ and Clean Fifteen™ lists was peeled and rinsed in cold water before testing to mimic how people would prepare food for themselves at home.
This shows that washing your produce doesn't remove all pesticides. But the EWG states that unwashed produce will contain more pesticides than washed produce.
So, it's important to wash your produce.
But what's the most effective way to wash your fruits and veggies? Here's a few tips from the FDA to help you out [5]:
How to Wash Your Fruits and Vegetables
| | |
| --- | --- |
| Do's | Don'ts |
| Wash your hands with warm water and soap for 20 seconds before and after prepping fruit and veggies | Use produce soap or detergent |
| Rinse your produce under running water before you peel or cut it, to prevent bacteria transfer | Use an abrasive brush on fruits with delicate skin |
| For leafy greens, remove outer leaves then wash under cold, running water | |
| Soak produce with ridges and crevices (like broccoli, cauliflower, etc.) in cold water for a few minutes before rinsing under running water | |
| For produce with a rind (like oranges, cantaloupes, potatoes, etc.), use a gentle produce brush to help lift away additional pesticides and microbes | |
| Dry your fruits and veggies after washing | |
And no, you don't need to buy commercial produce washes. It's not safe, since the skin of your favorite fruits and vegetables is likely to be porous [6]. So just use cold water.
Grow Your Own Organic Food Garden
And if your favorite fruits and veggies are on the Dirty DozenTM list, don't worry. Try to buy organically grown versions whenever you can. It's a lot safer. That's because organic farmers don't use synthetic pesticides.
"Several peer-reviewed studies have looked at what happens when people switch to a fully organic diet. And measurements of pesticides decrease very rapidly," said Alexis Temkin Ph.D, a leading expert in toxic chemicals and pesticides [7,8].
So try switching to an organic diet. That's the advice of bone health experts Lara and Joe Pizzorno. Not only is it better for your overall health, it's better for your bones too!
The pesticides found in conventionally grown foods often contain heavy metals like cadmium. And cadmium makes your bones weaker. It does this by displacing calcium and poisoning our osteoblasts. These are the cells which build healthy new bone.
"The good news is that when you eat organically most of the toxins will leave the blood within four days." – Joe Pizzorno
But organic food isn't always accessible, or even affordable for a lot of people. That's why it's a great idea to grow your fruits and vegetables.
In fact, starting an organic garden is very good for your bone health. With its bending, kneeling, and gentle lifting, gardening stimulates your bones to become stronger. And what's more, gardening gets you outside in the sunshine – and just 15 minutes of sunshine is enough to increase your body's production of vitamin D. Which is essential for strong, healthy bones.
Don't have space for an outdoor garden? No worries. You can flex your gardening skills indoors.
Give Container Gardening A Try
A simple way to grow your produce indoors is to start a container garden. This easy method allows you to grow your plants in containers from the comfort of your lovely home. So you'll have control over things like temperature, pests, and sun exposure. And the best part? No weeds — ever.
If that sounds like your cup of tea, then you'll be pleased to know that the following foods listed on the Dirty DozenTM list can easily be grown in containers:
Strawberries
Kale
Hot peppers
Green beans
Spinach
If you're new to the world of container gardening, here are a few simple tips to help you get started on the right foot.
3 Tips for Container Gardening
1. Pick the right container size. It's important to know the size of your plant's root system before shopping for a container. Take strawberries for example.
They have fairly shallow root zones and tend to grow roots about 6 inches to 1 foot into the soil. So it's best to pick a container that's 10-12 inches deep for a flourishing root zone.
2. Boost your potting soil with nutrients. Look for a natural, organic potting mix that'll hold moisture and provide your plant's roots with important nutrients and aeration. Remember that different plants require different fertilizer types and regimens.
For instance, peppers are susceptible to blossom end rot — a condition where the ends of the vegetable turn black due to a lack of calcium. Yeah, that's right. They need calcium just like us! So you'll also need to add calcium granules to the soil at planting time.
3. Use containers with drainage holes. Too much water can oversaturate the soil and kill your plants. This is especially the case with spinach. It hates standing water. So make sure your container has drainage holes. And if it doesn't, drill holes in the bottom (unless it's terracotta or ceramic).
Takeaways
If you want to keep your bones healthy and toxin-free, there's an easy solution: upgrade your produce game. Whenever possible, choose organic versions of fruits and veggies on the Dirty Dozen™ list. And stock up on more foods from the Clean Fifteen™ list to get maximum nutrition. It's that simple!
To learn more about how to keep your bones happy and healthy, sign up for our newsletter for updates on the latest in bone health.
FAQ
What are the Clean 15™ and Dirty Dozen™?

The Dirty Dozen™ and the Clean Fifteen™ are two lists that analyze Department of Agriculture test data to identify which fruits and vegetables are most and least contaminated.
What foods are on the Dirty Dozen list?

Strawberries
Spinach
Kale, collard and mustard greens
Peaches
Pears
Nectarines
Apples
Grapes
Bell and hot peppers
Cherries
Blueberries
Green beans
What are the Clean 15 Foods?

Avocados
Sweet corn
Pineapple
Onions
Papaya
Sweet peas (frozen)
Asparagus
Honeydew melon
Kiwi
Cabbage
Mushrooms
Mangoes
Sweet Potatoes
Watermelon
Carrots
Which fruits should be purchased organic?

Opt for organic when purchasing the following fruits:

Strawberries
Peaches
Pears
Nectarines
Apples
Grapes
Bell and hot peppers
Cherries
Blueberries
Which vegetables are better organic?

Opt for organic when purchasing the following vegetables:

Spinach
Kale
Collard and mustard greens
Bell and hot peppers
Green beans
References:
"Diet, Nutrition, and Cancer: Directions for Research." National Research Council (US) Committee on Diet, Nutrition, and Cancer. Washington (DC): National Academies Press (US); 1983.
Vigar, V., et al., "A Systematic Review of Organic Versus Conventional Food Consumption: Is There a Measurable Benefit on Human Health?" Nutrients, 2020; 12(1)
Kesse-Guyot et al. "Key Findings of the French BioNutriNet Project on Organic Food-Based Diets: Description, Determinants, and Relationships to Health and the Environment." Adv Nutr. 2022 Feb 1;13; https://pubmed.ncbi.nlm.nih.gov/34661620