It seems everyone these days is talking about pre and probiotics. They've been used for centuries as a cure-all for everything from the common cold to fixing digestion problems.
In the past, prebiotics foods and probiotics were simply thought to be 'old-wives tales.' However, thanks to modern technology, over the last several decades more research has been done to validate their importance to our everyday health.
But, did you know the bacteria within your gut can also impact your bone health?
And, what are these things anyway?
The first clinical trials in the 1930s focused on the effect of probiotics on constipation, and research has steadily increased since then. As you'll soon learn, pre and probiotics have some interesting qualities that can affect everything from digestion to bone health.
Today, we'll get down to the nitty-gritty of pre and probiotics.
---
What's the Difference? Prebiotic vs. Probiotic
When taken together prebiotics and probiotic can be a powerful duo. Having the right combination can effectively correct an imbalance in your gut microbiota.
As we've previously discussed, your gut microbiota has a direct or indirect effect on just about every aspect of your normal bodily functions.
If you're like many people, you've probably heard the terms 'prebiotic' and 'probiotic' in relation to nutritional health. Many folks confuse the two as being the same thing which is inaccurate.
Instead, probiotics and prebiotics work as partners through their individual mechanisms to ensure your optimal health.
Let's take a closer look at the differences between the two.
---
Prebiotics
Prebiotics are specialized plant fibers that can be found in certain foods, isolated from plants, or synthesized.
Humans aren't able to produce these fibers. Nor are our bodies able to break them down. Although we're unable to digest these plant-based fibers, they're still important to our health. Prebiotics help the growth of good bacteria already in our bodies.
When we consume prebiotics, they act as a fertilizer for the good bacteria that are found in our gut flora. Essentially, prebiotics is food for friendly bacteria associated with health and our overall well-being.
So, what classifies a prebiotic?
There are several factors that determine if a food qualifies as a prebiotic. Let's take a look.
It cannot be broken down in the stomach or absorbed in the GI tract.
It's fermented by the gastrointestinal microflora.
It selectively stimulates the growth and activity of good gut bacteria.
Because they are indigestible, prebiotics aren't anywhere near as volatile to heat or acids found in the stomach, making them more likely to have a positive effect.
While prebiotics are lesser-known than probiotics, they may be equally (if not more) important for your overall health.
| Common Prebiotic Foods | Varieties |
| --- | --- |
| Legumes |  Beans and peas |
| Oats |  Whole oats |
| Garlic |  White or black |
| Berries |  Blueberries, blackberries, raspberries |
| Asparagus |  Green, white or purple |
| Jerusalem Artichoke | |
| Onions |  Sweet onion and red onion |
---
Probiotics
Officially, the World Health Organization and the Food and Agricultural Organization defines probiotics as "living organisms, which when administered in adequate amounts confer health benefits on the host."
Due to the antimicrobial and antibacterial properties found in probiotics, you'll benefit from an immune system boost when taking them. Probiotics help the resistance and can even directly inhibit harmful pathogens in the gut.
Probiotics restore or improve the ratio of good-to-bad bacteria in your gut's microbiome. What's more, certain strains are good for aiding in brain health. Some are better for indigestion. And others are good for strong bones. (More on this later).
In addition, "probiotics help to produce vitamin B12, butyrate and vitamin K2," says Rebecca Lee, Registered Nurse and founder of RemediesForMe.com. And as we know, vitamin K2 is also crucial for healthy bones.
| Common Probiotic Foods | Made from |
| --- | --- |
| Kefir |  Water, milk, or coconut |
| Yogurt |  Milk |
| Sauerkraut |  Cabbage, water and salt |
| Tempeh |  Fermented Indonesian soybeans |
| Natto |  Fermented Japanese soybeans |
| Kvass |  Fermented alcoholic Russian drink made from rye flour or malt |
| Miso |  Fermented Japanese soybeans |
| Kombucha |  Fermented sweet tea made with cultures from yeast and bacteria |
| Kimchi |  Fermented Korean cabbage |
| Raw cheese |  Unpasteurized goat or sheep's milk |
If you have dietary restrictions (or taste buds) that don't allow for consumption of these foods, you can also add probiotics to your routine through supplementation.
Natural vs. Processed Foods
Now, you may be wondering if your store bought-kefir is just as beneficial as making your own.
Ms. Lee says, probably not:
"Probiotics are most beneficial from natural food sources, such as organic, unprocessed yogurt, kefir, kombucha, sauerkraut, tempeh, natto, kvass, miso, kimchi, and raw cheeses.
A positive quality is that these natural foods last through the entire digestive system and do not get killed off in the stomach. The best health benefits are seen from probiotics that come from naturally occurring food.
Most often, processed foods are filled with high fructose corn syrup, sugar, and other harmful ingredients. Learning how to read food labels can help you get the best source of probiotics.
Furthermore, it is extremely hard to keep probiotics alive in packaged foods. These live bacteria are easily destroyed by air and moisture. There is no way to measure exactly how many probiotics actually survive throughout the entire packaging process, and the FDA currently does not have any regulations on this.
A well-known culprit of packaged food with probiotics is yogurt. A lot of yogurts are advertised as metabolism-boosting or "active" probiotic-filled. Popular commercial yogurts go through a high-heat sterilization process during manufacturing to create a longer shelf life. By the time they get to you, the "active" cultures or probiotics are already dead and are no longer favorable."
Ms. Lee recommends you perform the following quick test to decide whether or not to spend your money on a supposed probiotic.
For Supplements:
The first step in picking the best probiotic supplement is to learn how to read the label. Here are some important facts to keep in mind when buying supplements:
Buy from a reputable brand that contain strains like bacillus coagulans, lactobacillus rhamnosus, lactobacillus acidophilus, saccharomyces boulardii, bacillus subtilis, or other longer-surviving probiotic. You want probiotics that will survive past your stomach.
Make sure the colony forming units (CFUs) is a high number, such as 15-100 billion.
For Commercial Yogurts: Be wary of buying commercial yogurts because you think they contain probiotics. These yogurts are mostly loaded with sugar and high fructose corn syrup (HFCS). High fructose corn syrup is mainly made from genetically modified (GMO) corn. It is ultra-processed, not a natural product and is unhealthy. It is hard to stay away from HFCS nowadays because it is incorporated into practically everything that we eat and buy today.  HFCS may cause an increased risk of lifelong health conditions such as cancer, diabetes, weight gain, obesity, liver disease, high blood pressure, high cholesterol, gastrointestinal issues, and heart disease.
For Various Food and Drink:
Raw (meaning it has not been filtered or pasteurized) and unpasteurized (meaning likely filtered but not heated) labels show that certain foods or drinks that contain probiotics are of good quality. Some examples are raw goat's milk, cheese, kombucha, apple cider vinegar and tempeh (fermented soybean).
How to Test Your Yogurt or Tablets 
The following are ways to test your yogurt or tablets to see if they contain live bacteria (probiotics). You will need one container (plastic or kitchenware) and milk (whole milk or reduced fat milk).
Testing Yogurt. Place your yogurt and milk (1:2 ratio) into one container. Wait 8-10 hours, or overnight. If there are live bacteria present, more yogurt will have formed because the bacteria will have digested the milk.
Testing Probiotic Pills. Place 1/2 cup of milk into a container. Split open 2-3 pills and pour the contents into the milk. Mix well. Wait 8-10 hours, or overnight. The bacteria in the pills should cause the milk to form curdles or clumps.
---
Prebiotic and Probiotic Strains and Benefits
The growth and metabolism of the many bacteria within your gut depend primarily on your diet to perform at their best. Each strain of pre and probiotic can alter slightly in how they can help you maintain a healthy lifestyle.
Most adults have a diverse enough gut microbiome however as we age it's important to self-diversify our gut flora (more on this later).
Determining which strains of probiotics your body needs can be somewhat overwhelming due to the huge number available. Here, we'll take a closer look at what some of these hard to pronounce probiotic and prebiotic strains can do for your health.
---
Prebiotic Strains and Benefits
Prebiotics can easily be incorporated into your routine by adding honey to breakfast or snacks. Put a drizzle of organic honey on your yogurt in the morning or treat yourself to peanut butter and honey toast mid-day.
[embed_infographic title="Prebiotic and Probiotic Strains and Benefits" alt="Prebiotic and Probiotic Strains and Benefits" src="https://blog.algaecal.com/wp-content/uploads/prebiotic-infographic-1.png"]
Probiotic Strains and Benefits
Have you ever picked wild berries off the bush and eaten them, without washing them off? Well, that's one way to introduce probiotics into our system–  by eating foods that have been in the wild collecting dust and even a little dirt :).
Dean, our CEO, likes to call these 'probiotic floaties,' and he's shared his fond memories of eating unwashed cherry tomatoes from his parent's organic garden with me before. There's actually some research behind it too. These "floaties" are really called soil-based organisms (SBO's) and they fall under the same category as probiotics but aren't naturally found in your body. SBO's come from spores and the ground (dirt), and hang out in your digestive tract after you eat them. In fact, research shows that they can make you smarter, happier and reduce inflammation! These SBOs have also been shown in a randomized, placebo-controlled, double-blind study to reduce symptoms for IBS patients in two weeks.
However, other than these studies (and the studies are small) research on SBO's is very limited.
Just keep in mind that it's helpful to diversify your gut microbiota by introducing various probiotic strains from different foods. (Whether that's eating wild, unwashed fruits and veggies, or simply incorporating probiotic-rich foods into your diet that you'd normally ignore like kefir, kimchi, and natto.)
Now, let's discover a few important probiotic strains…
Lactobacillus Species
Bifidobacterium Species
Streptococcus Species
Saccharomyces Species
---
The Importance of Gut Health At Every Stage
Gut health is important at every stage of your life. From birth to our golden years our gut microbiome changes drastically. Because our gut has such a major impact on the rest of our bodies, it's important to maintain a diverse gut flora throughout our lifetime.
Unfortunately, as we age our bodies typically become less diverse, which can cause a number of problems.
[embed_infographic title="Composition of Gut Microbiota During Aging" alt="Composition of Gut Microbiota During Aging" src="https://blog.algaecal.com/wp-content/uploads/microbiota-2.png"]
Let's take a closer look at how our bodies are affected by our gut at every stage of our lives.
---
The Benefits of Prebiotics and Probiotics for Bone Health
Probiotics are known to have anti-inflammatory properties, which can be beneficial for bone health.
Studies have indicated that strains of bacteria such as Lactobacillus and Bifidobacterium have the potential effect of increasing bone density in mice and rats (which can simulate postmenopausal conditions in women).
One study, in particular, published in the Journal of Cellular Physiology, looked at the effect of probiotics on bone density. They gave healthy male mice a strain of probiotic called Lactobacillus reuteri (which is known to reduce inflammation) for four weeks. At the end of the four weeks, the researchers looked at the femurs of all the mice in the study and found significant increases in bone density.
Yet, another study looked at the strains of bacteria: Lactobacillus casei, Lactobacillus reuteri, and Lactobacillus gasseri. They found that the probiotic-fed rat group compared to the control group had increased calcium absorption and 35% higher bone weight.
The probiotic strain, Bifidobacterium longum from fermented broccoli and yacon flour has also shown a significant effect on bone health. One study divided the rats into four groups. They received the following diets: control diet; yacon flour; standard diet + Bifidobacterium longum; and yacon flour +Bifidobacterium longum.
After 28 days the rats showed no difference in body weight and food intake. But the rats who were fed B. longum and B. longum with yacon flour had higher mineral content including calcium (Ca), phosphorus (P), and magnesium (Mg) than the other two groups!
Now the benefits of probiotics for bone health haven't just been studied in animals. Human studies have also been conducted.
One double-blind, randomized crossover study looked at 20 postmenopausal women with a mean age of 65 and BMI of 26. Participants were separated into two groups. One group was given Lactobacillus helveticus fermented milk, while the other group received a control milk.
The L. helveticus fermented milk group saw reduced serum parathyroid hormone and increased serum calcium compared to the control milk. In conclusion, the fermentation of milk with Lactobacillus helveticus had an acute positive effect on calcium metabolism.
These studies and others, suggest probiotics improve bone health by:
Increasing bone mass
Increasing mineral absorption
Enhancing Immunity
Reducing leaky gut and allergies
Making milk more digestible (by reducing lactose)
So we can draw that from these conclusions, maintaining a healthy gut can lower inflammation and positively affect your bones.
In 2012 there was a study done in mice showing the gut regulates bone mass.
Prebiotics have more animal studies than human at the moment. However, we do know that they play a crucial role in mineral absorption.
The American Journal of Clinical Nutrition has a few animal studies published showing prebiotics increase the bioavailability of calcium, magnesium, iron, and zinc by feeding good bacteria. As we've previously discussed, both calcium and magnesium are essential for bone health.
It's clear more research needs to be done.
However, if dietary additions of prebiotics or supplementation can improve bone density in rats (in the femur), perhaps humans can benefit as well. Only time will tell…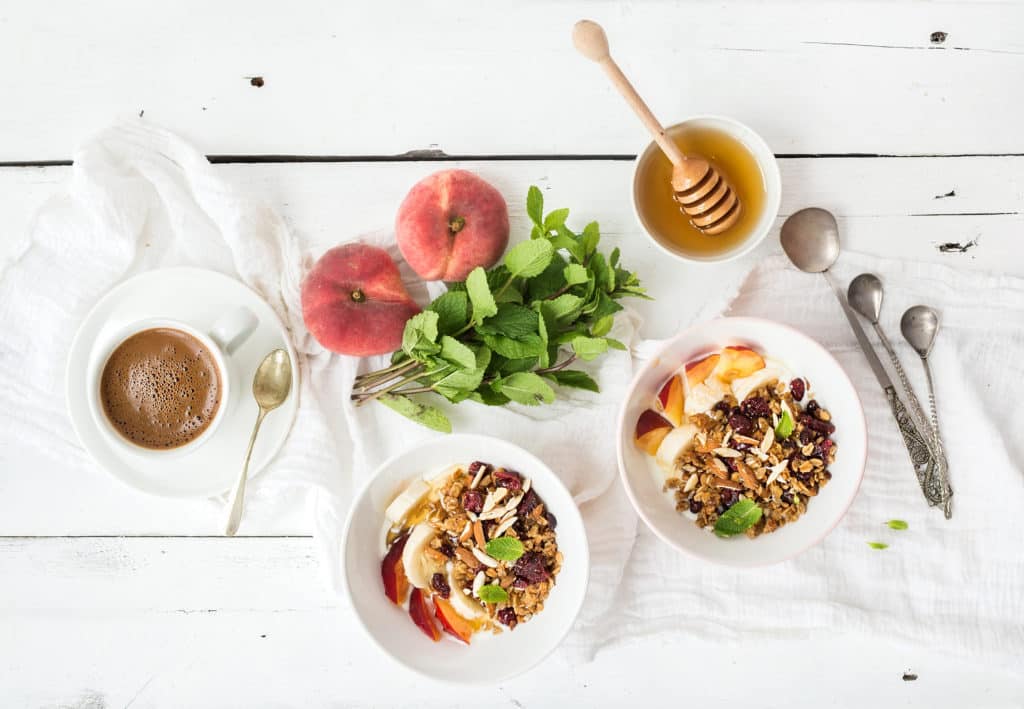 Yogurt For Bones and Gut Health
Yogurt is a great calcium-rich food. But, its benefits may go way beyond that.
The diverse population of probiotics found naturally within yogurt also aid in the absorption of calcium and other bone-healthy minerals.
A new study that was presented by the American Society for Bone and Mineral Research (ASBMR) 2016 Annual Meeting found that postmenopausal women eating yogurt had better BMD (bone mass density).
Three years later, a follow-up to this study showed women who ate at least one serving of yogurt a day (containing 200-450 mg of calcium) experienced less bone loss than women who are little to no yogurt. Bone fractures were also lower by 10% in women who consumed yogurt.
Researchers have several hypotheses as to why yogurt is so good for your bones.
Yogurt is a calcium-rich (ie-bone-healthy) food.
The protein within yogurt populates the large intestine and aids in calcium absorption.
All three of these are believed to be good for overall bone health. Knowing this, it's not that hard to put two and two together. Yogurt is good for your bones.
---
Takeaways
Experts agree pre and probiotics are beneficial to your overall well-being. Each strain affects our gut differently to help our bodies function at their best possible level.
While more research needs to be done, it's safe to say adding prebiotics and probiotics to your daily routine can balance the gut microbiota.
In our next article in the gut health mini-series, we'll discuss fermentation and provide recipes for fermented foods you can make at home!
Tell us your favorite probiotic strains and how they affected your life in the comment section below. We'd love to hear your personal stories along with helpful tips.